Established in 1963, Kawan Motorbodies celebrates offering high quality collision repair and paintwork services to our clients for more than 55 years. In 2013 we relocated to new premises in Hastings on Alexander Street, with our new facilities and overall operation led by innovative technology developments focused on offering the highest of industry standards.
Kawan Collision Repair is proud to be a BMW Accredited Repairer.
Working with all insurance companies as a preferred collision repairer for Hawke's Bay, we now offer one of the largest collision repair services in New Zealand.
We have state of the art technology and our new premises includes purpose-built paint booths to colour vehicles. We also use a computerised colour matching system. All facilities and equipment at Kawan Collision Repair is regularly maintained and updated to meet manufacturer specifications and ensure the best quality service.
Employing 19 staff across collision repair, paintwork and administration services, we work hard to offer our clients unparalleled service with high-quality workmanship ensuring that we meet the exact specifications required.
As a member of the Collision Repair Association (CRA), we pride ourselves on our audited services and workmanship guarantee. We also ensure that all of our technicians and estimators are trained in ICAR, the repair industry's leading training programme. Our team is friendly, passionate about what they do and dedicated to high quality finishes.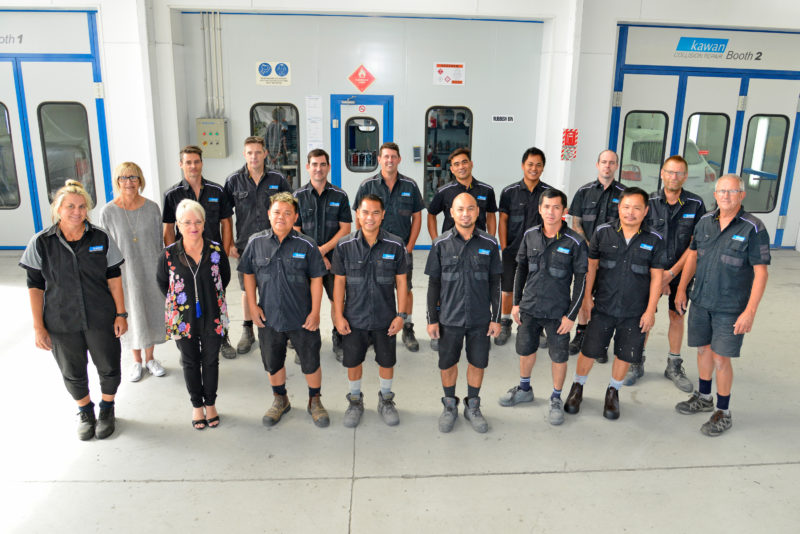 Luckily for Hayden, his dad Peter has been an owner of Kawan's since 1986. Out of this grew a love for all things car-related and he joined the business in the mid-2000's. He completed both Mechanical and Panel Beating apprenticeships before taking on the role of Workshop Manager and has subsequently taken over as General Manager.
Hayden is interested in continuing to investigate the potential of technology and innovation in the collision repair industry, with a focus on the client experience and stream-lining processes.